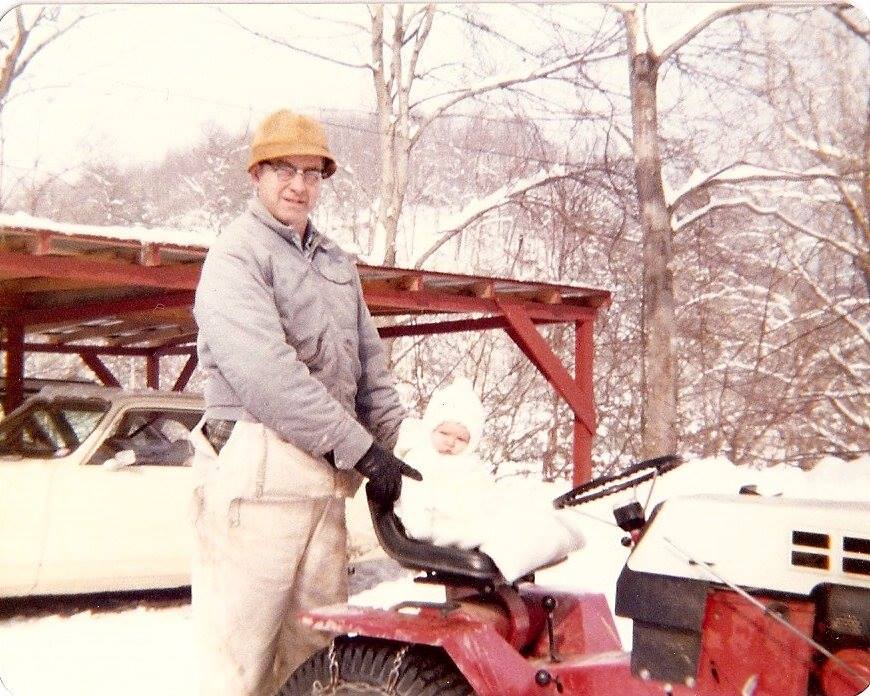 Five years ago today, I lost my last remaining grandparent on Christmas eve.
He is on my mind tonight. I thought I might share a little about him. He was quite a character. I don't think we ever stop missing those who have moved on.
I wrote this for his funeral. I've never shared it publicly before now.
~
For My Grandfather
My Grandpa is known for many things, some more colorful than others.
He had the Norman trait of being incredibly stubborn. Being stubborn isn't always a bad thing. And I believe it served him well in difficult times, particularly times of physical challenges and pain.
He served his country in WWII, the Korean War, and volunteered for Vietnam. When they told him he was too old for Vietnam, he did everything he could to convince them otherwise. They would not budge. Grandma told me that when they would not allow him to serve again, it was the most angry she had ever seen him.
He was on a ship when Aunt Frances was born. He said someone radioed the ship and they announced her birth over the intercom and the whole ship cheered for him. Everyone was slapping him on the back all day. He said he was so proud. It would be some time before he got to see his new baby in person.
He came home somewhat haunted by the wars. Grandma told me that his best friend had died in his arms, but I never heard him speak about it.
I remember how Grandma wouldn't make certain recipes because they contained rice and PawPaw wouldn't eat rice.
Where PawPaw was stationed, during the Korean War, there were many starving children. Some so thin that their ribs were showing. Some were no bigger than toddlers, walking hand-in-hand with older children. They would wait near where the American service men were, hoping for some food. PawPaw gave away his rations everyday. Some of the children were so young that he spoon fed them. He had to be careful and sneak his food away, because they weren't supposed to give away their rations. Some superiors knew and turned a blind eye, but others would have been very upset had he gotten caught. Not out of cruelty, but because they didn't want their men weak from lack of nutrition.
But he said he just couldn't eat, knowing there were so many hungry children nearby. So he continued this process of giving away his food whenever possible, and while there, he lived on mostly rice alone. Rice, unlike other more nutritious foods, was plentiful in the area.
When he came back, he was a much thinner version of his usual stocky build. He told my Grandma that he would never eat rice again. I asked him about it once and his face filled with a pained expression as he said,
"I cannot look at rice and not think of hungry babies."
–
Most people knew my grandfather as someone who was tough as nails, but he also liked to tease and joke. To my cousins he was "Sweetie Pie", to me he was "PawPaw", and I was his "knothead". I think he called me knothead more than he called me by my name. It started because I always wore a ponytail as a little girl, which he called the knot on my head. Then he said he kept it up because I was stubborn and knotheaded like my Dad. And I would say, "Yeah and I wonder where Dad got it from?" And he would smile.
He had a tender side. He loved kids. He loved dogs and he throughly enjoyed the toads that would live around his garage and sidewalk. Some of my earliest childhood memories are of him riding me around on his tractor and lawn mower. There are pictures of him riding me on his tractor even when I was just a baby. As I got a little older, I remember riding along, staring at the pictures of the turtle and the hare, and him explaining to me how one made it go fast and the other made it go slow. I LOVED riding along with him. As I got bigger he would let me steer. He taught me how to look after tomatoes, and the perfect time to pick the cucumbers.
In his final years, I think he worried more about me and about my health problems than he did his own. He was always checking on me, and I on him. I was very concerned with how he would handle Grandma's passing. She died in his arms. They had been together almost their entire lives. I worried how he would cope. We had many long talks on the phone in the years after Gram's passing.  I would always end the call by saying, "I love you, Bye."  And he would always say, "Bye."
I had the privilege of living next door to him and Gram my entire life, but I'd never heard PawPaw say "I love you". I always knew that he did. But I had never actually heard him say it. Eventually there would be these long awkward pauses before he said "Bye", where he would say, "Well… ok then… Bye."
And then one day, as I said, "I love you PawPaw, Bye" he replied in an awkward shy voice and said, "Well…. Well… I love you too." And he hung up.
It made my day.
After that, he always told me "I love you" when we got off the phone. I consider it one of my personal achievements in life that I got this tough guy to say I love you. But even if he had never said it, I always knew he meant it. He loved us all.
–
In 2006, he spent a few months in a rehabilitation facility after hip surgery. My husband was the charge nurse for his floor and he was always coming home with funny stories about PawPaw. He was the king of nursing home contraband. There was the time someone tried to take his cigarettes, the time they found him with a lighter, the first time he tried eating in the cafeteria, etc. Everyone liked him there. He may have been older, but he was still sharp as a tack and quick with his words, which often created funny situations.
His male physical therapist would help him to the exercise room to practice walking again. He would joke with PawPaw that it looked like they were slow dancing in front of everyone. PawPaw didn't find this nearly as amusing as the therapist did. One day he jokingly told PawPaw in front of everyone, "One of these days, I might try to kiss you."
PawPaw replied slowly and sternly, "I'd like to see you try."
–
Thanks to the hard work and loving care of my mother and father, he was able to live out his final years in his own home.
PawPaw treated my mother with great kindness. He was tough on my Dad, but he loved him dearly. PawPaw was convinced that my Dad couldn't conduct even the most basic care of tomatoes without his supervision. So he would watch him from his window and bark orders at him. He would tell me, "Maybe one day that boy will learn how to do it right."
The truth is, that "boy" in his 60's, was doing things just fine and was growing lovely tomatoes. But it is very hard to let someone else do things for you, after you are no longer able. Nobody can ever do things exactly the way that you would, if you could, no matter how hard they try.
Being difficult was often PawPaw's unique way of showing that he cared. Dad checked on him regularly, even on the days that Dad hunted, but PawPaw told me this fall how much he looked forward to deer season being over with, so that Dad wouldn't be in the woods so much. He would grumble and complain, "He already got one deer, why does he need another?"
That was my PawPaw's way of saying, "I love him and I miss him when he's away for a few hours."
He loved to have the kids stop by for oreo cookies. He was always keeping tabs on them and what they were up to. He called them "my little ones". He really enjoyed his great-grandbabies. And he loved that I could keep in touch with some of the others over the internet, and keep him updated on how they were doing as well.
I know that he was 90-years-old and that he lived a good, long life. But I admit I was devastated when he passed away on Christmas Eve. I loved him dearly and it's hard to imagine him not being here. I stood outside the night he died, trying to compose myself. But after a while I could imagine PawPaw's big booming voice saying, "Get yourself back in that house, out of the cold, and make sure my little ones have a good Christmas!" So I tried hard to do that.
It's hard to know what to say when writing something like this, and even harder to know how to close it. So I will close with the words that my 8-year-old son, Will, said to me the night that PawPaw passed. I was crying and my son put his arm around me and he said words that were so simple, but exactly what I needed to hear. He said,
"Mom, you know that PawPaw Jim is in a better place. It's ok to cry because you miss him. But we can't be too sad, because we know he's going to Heaven with God and Jesus. And we can't be too happy either, because we miss him being here with us. And that's ok Mom. God understands that we miss him and that we are sad. But we just have to remember what a good life he had, and that he doesn't hurt anymore, and that there is no place better than Heaven."
~
It's been five years since I wrote that. I still miss him and all of my grandparents. Oh what I wouldn't give for one more Christmas with them all. Thank God for the promises of Heaven.  Till we meet again.
For those who are hurting and missing loved ones tonight. I hope you find comfort in this passage below. I don't know who wrote it. But I saved it years ago when I first read it, because I agree with much of what it says.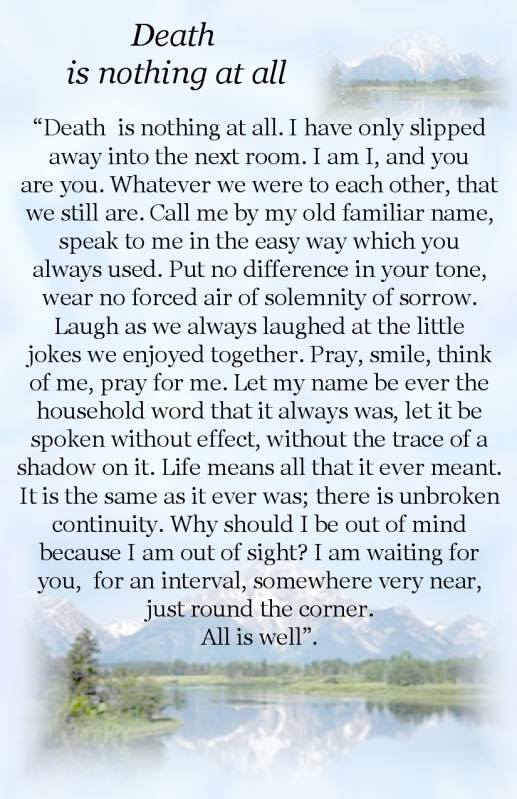 To those celebrating tonight or those hurting, remember God is always with you.
~